Inspiration is limitless, just as BALLFLOW is limitless, and so is life.
Be the inspiration and be inspired.
BALLFLOW
Gina Giambra was born and raised in Las Vegas, Nevada and is currently a licensed massage therapist who specializes in sports therapy rehabilitation and structural body work. Over the past decade, Gina has created the disciplined routine of BALLFLOW™ as it helps the body recover from any taxing profession. Gina's two sons, Mason and Vincinzo, and helping others, are her inspiration to be a successful entrepreneur in the health and wellness industry. Gina's single father Joey and her big brother Joey are her idols.
 Pictured above: Joey Jr. left; Joey Sr. middle; and one of Joey's back East fans on the right.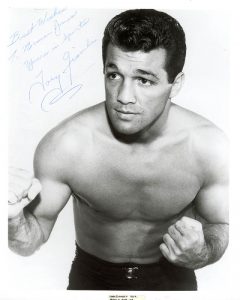 Gina's single father, Joey Giambra, was born in Buffalo, NY, and one of 14 children.
He was known as the Buffalo Adonis, a middleweight boxer from 1949-1963; it was the era when boxing announcements transitioned from radio to TV. Giambra was a prized fighter, defeating two middleweight champions and two others who fought for the championship. Although his refusal to take dives curtailed the chance of a title, he was well known amongst the top contenders, premiering a record of 33 times on TV. Rightfully so, his new alias became "The Uncrowned Champion" of the middleweight division. He was virtually elected into every boxing hall of fame, including the creme de la creme – World Boxing Hall of Fame.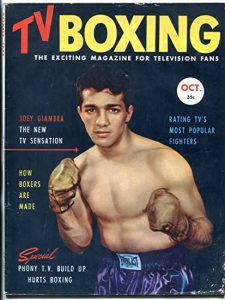 Giambra stressed the importance of stretching and massaging the muscles, not only for recovery from hard training, but as a way to minimize injury. He truly treated his body as a temple and looked 20 years younger than his age.
After his boxing career, he resided in Las Vegas, Nevada and worked as a boxing referee and a Caesar's Palace blackjack dealer. As a single father, Giambra also dedicated his efforts to the development of a youth foundation, "Knock Out Drugs." In his honor, Gina and Nicole are donating a portion of proceeds to charity.
Gustkey, E. (1989). 'After All Those Fights, Giambra Still Unmarked and Uncrowned', Los Angeles Times. 11 April. Available at:
https://www.latimes.com/archives/la-xpm-1989-04-11-sp-1851-story.html
(Accessed: 30 May 2020).